I have always had a heart for missions growing up. I can vividly remember my mum challenging me that she will be giving a huge amount of money in 2013 to missions even if it meant her paying for it instalmentally. Suddenly I developed an appetite for missions with goal of reaching out to people with the gospel of Jesus Christ. I believe that any amount sent to missions to see someone give their life to Christ is worth every penny. Ever since then, I have always set out a particular amount of money for missionaries.
While I was in the university, I always had this desire for people to get saved. I was always giving part of my pocket money in school to missionaries even when I do not have any idea of what the entire programme is all about. All I needed to know before giving out my money was that people will give their lives to Christ even if it's one person. Infact, you might get money from me quicker if the project is something that has to do with transformation of peoples' lives through the power of the gospel. Hahahaha. One day my mum and I talked about having a kingdom account where the number of souls who turned to Christ by your input is reserved. Ever since then we have tried to make sure our kingdom accounts are healthy either by preaching the gospel or give our resources to those on the mission field. I want to go to heaven knowing that I brought souls  along with me even when I did not have any first hand contact with them.
I didn't go for any missions outreach while in the university but I always admired people that were constantly going for missions. So I always thought to myself that the least I can do is to give my resources. It gladdens my heart whenever I see someone give their life to Christ for real because I know the life transformation that comes with it.
While my husband and I were still dating, I will always tell him that one day we will be travelling around Africa for missions. I told him that we are going to provide resources and the gospel of Christ to countries like Zambia, Zimbabwe, Ethiopia and the likes. It was when we had this discussion that I knew I can do life with him and I have never regretted that decision.
In November 2019, Ijeoma one of my best friends came to my house and we were talking about a couple of things till she mentioned her community "NGWO". She told me that her heart goes out for majority of the women in her community. She told me how the women drop out of school, get married and open a kiosk. That was the trajectory of their life in summary. You either see their husbands smoking in front of their children or the women doing the same. It is just a norm to see a 14 year old pregnant. She wanted to know if there's a way to reach out to her community. I was moved by her story and we set out for a missions outreach in "NGWO' community the next month.
Some days before the proposed day, I enquired from a videographer about our video coverage and it turned out that I didn't have enough resources to hire and pay the guy agt that point. So I called my sister Afoma, got my hubbys camera and taught her how to take basic pictures while she use my phone for the video coverage. Finally we sorted out the media coverage without paying a dime. I was so happy. Ijeoma made the arrangements for the sound system, generator and sensitizing the women in the community. Afoma took care of the media while oge assisted in the coordination.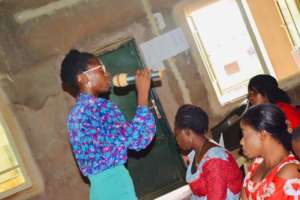 On getting to the community by 2pm, I was already expecting to see at least 30 women inside the hall because the projected number of participants we worked with was 50. To my surprise, no one was inside the hall. It was just myself, my sister and Ijeoma. I didn't know if I should start crying or just go home. I started entertaining thoughts that told me earlier that this was never going to work.  I tried collecting my thoughts to see if this will even work till Ijeoma informed me that the guy she asked to provide generator decided not to give it to us. So we went out under the sun and started looking for him with the hope to pacify him so that he can give it to us. It was when we reached his house that we were informed that he went to work in a neighbouring village and will not be coming back any time soon. We started looking from house to house for generator till we saw a lady who hired hers to us. This was happening in the hot sun and girl! I didn't apply my sunscreen..hahaha  We were so happy that we paid anything she asked  for to hire her generator. After paying her, she requested that we return the generator in 1 hr stating she wants to refrigerate drinks for her business and people will start coming to drink soon. This was happening around 4pm and we are supposed to get it back by 5pm plus there was no one in the hall at that time. The keyboardist on the other hand disappointed us that we just had to download instrumental and play on the background when the prayers was going on.
We started around 4:30pm and I was amazed that people started coming out, ranging from young women to old ones. The outreach was a success. While talking to them, I saw the hunger in their eyes to embrace all that God has called them to be. That evening their faith was built up and they agreed on defying any limit placed on their lives. They got to understand that "They can have it all" as women and their background has nothing to do with that.
The answer and question session was my favourite. It was more like girls time. They had questions on how to deal with rape, knowing their purpose, time management, the right time to be in a relationship and marital questions. My team and I answered their question practically with the help of the holy spirit.
We had so much fun.
One of the striking thing that happened was when holy spirit put a word in my mouth that someone was suffering from the disease called "emphysema' and will regain his healing. As I heard this in my spirit, I saw a man that has a big stomach lying on a mat his back to the ground wearing a white singlet. At that moment I knew he was at home but not inside the hall. I was amazed at how holy spirit ministered to a man that is not even in the venue. This was the first time this was happening to me. Marriages were restored, mental clutches were dropped and lives were transformed.
After the refreshment, we came to the end of the meeting. There were so welcoming and kept asking when we were coming again. Most of them took our numbers and promised to call. We have been counseling the lady struggling with rape ever since then. We handed her over to a sister that had such horrible experience and is completely whole.
I came back by 7:30pm with my team. I am so thankful for my husband for taking care of david while I was away that Sunday.That moment was an answered prayer. I'm thankful to my mum that encouraged me all through the planning stage and was supposed to join us but something else came up and she couldn't make it. I am grateful for my incredible team and the phenomenal woman sisterhood for all that it stands for.
Guess what? We are going back to Ngwo next week and we have promised to visit them every month. This time around, we are bringing the gospel of Christ and empowering them with skills.
Every woman in that community represents us and we can't afford to fail them.
We are the ones;
To lift her up in any capacity
To let her know that the world is waiting for her manifestation
To help her embrace her identity in Christ Jesus
To remind her to take the limits off God
To let her know that life is much more than being labeled a particular name
To enlighten her of her worth
To help broaden the scope of her knowledge
To help her understand the power of sisterhood
To tell her that we are praying for her
To let her know that SHE CAN HAVE IT ALL!
This is an experience I will never forget and if you want to partner with us to support our missions outreach, send your prayers, encouragement and resources. Volunteers for this programme is highly welcome especially if you are in Enugu State.
Access Bank
Account Number: 078 817 8056
Account Name: Chidimma Adaobi Udeze
God bless you
Sending you love and light.
xoxo
Dimma